Project Manual — Part 1
| | |
| --- | --- |
| Category: | Manual |
| Published: | Aug 19 2018 |
| By: | Ondrej Jób |
Introduction of the 5-part research to the Manual project which aims at digitization of traditional pre-digital era typefaces found in Slovakia's public spaces, their modernization and re-introduction for modern day usage.
When I started with my Type Atlas project almost four years ago – it is an online archive of old street typography mostly from the beginning of the 20th century to the 1990s (when everything switched to digital) – I was looking for interesting, custom made signage on the old department stores, broken neons, socialistic script logos and similar curiosities. Thanks to Type Atlas, however, I started to pay more attention not only to these "big" signs, but to all, even the most inconspicuous and obscure street typography – from hydrant labels, levelling badges, to warning plates on electric cabinets, from restriction signs to house numbers and street name-plates.
The things I didn't find that interesting from the very beginning started to form some sort of system in my head, the fonts from these technical signs, in spite of a relatively large variability, clearly showed mutual features of a wider typeface family. For the sake of this project, I named this family Manual Grotesk.
Although this typeface may appear neutral, possibly technical or even mechanical, it doesn't get lost in the street typography – it navigates, alerts or informs us, we can always rely on it. And this applies to any place in Slovakia. This certainty and familiarity gives it a straightforward, even friendly character.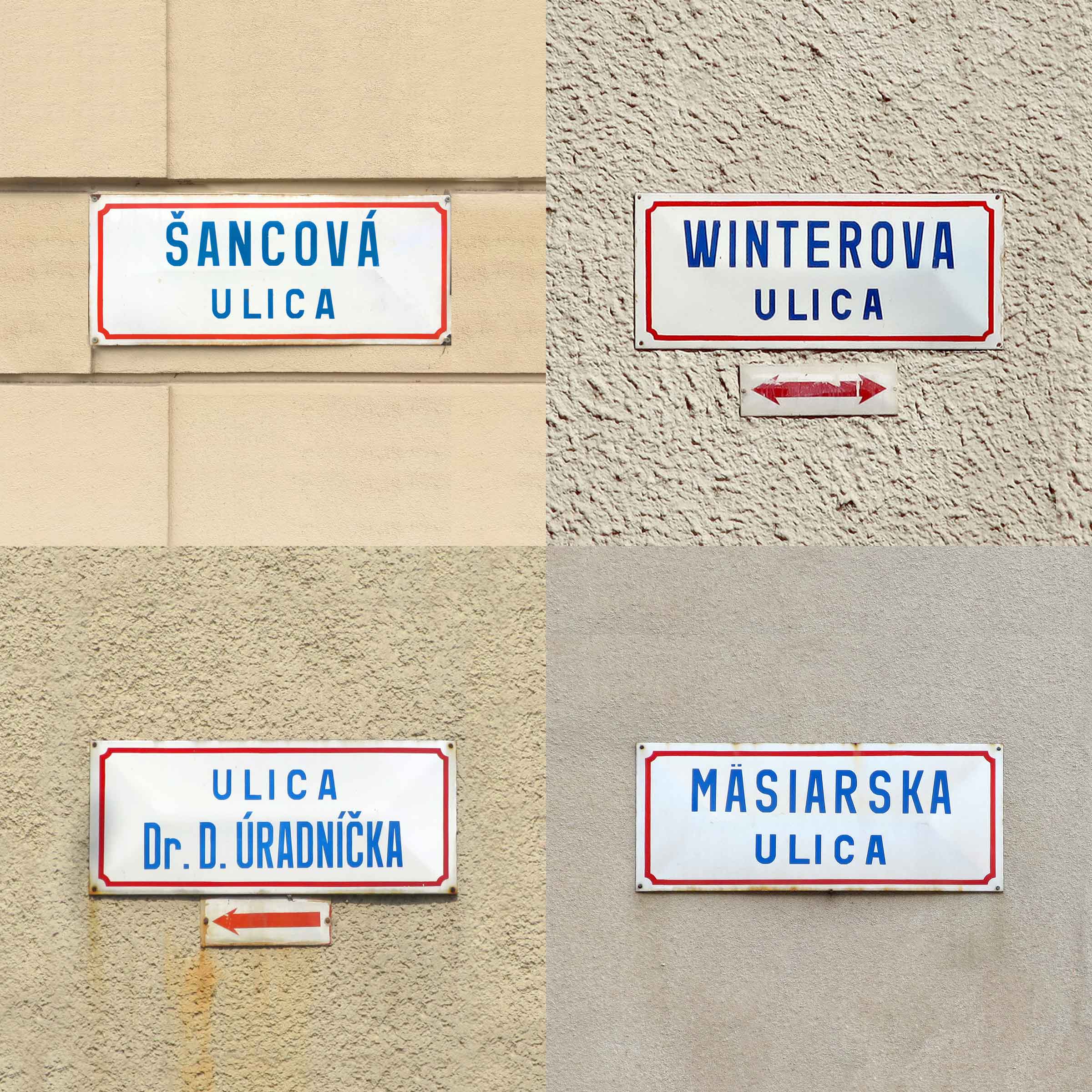 While browsing the streets for the Type Atlas archive, I managed to compile a rather big collection of variations of this typeface – some are monolinear, others have contrast (the difference between thick and thin strokes), some have rounded terminals, others are sharply cut, some have flattened tops, and others are circular. They exist in a range of widths, weights, can be found upright as well as oblique, hand painted or applied with a stencil. The occurrence of some is geographically limited only to a specific location (e. g. the street name-plates in Banská Štiavnica, or the hand-painted guide-posts in the abandoned spa in Korytnica), others are used only by a particular organization (e. g. the variant from the High Tatras National Park). Regardless of these differences, they still share mutual construction principles and a common internal logic.
My interest in these, you might say "trivial" fonts has grown even more when I began to notice the original street enamel plates being replaced by plastic ones – new public spaces or houses that had their facade renovated are marked with new plastic plates, which in the best case at least try to imitate the original design, but usually they just completely ignore it. The plastic material is used for obvious reason – it is cheaper, but the original font is being replaced by distorted Arial or similar fonts because its digital form does not exist.
In terms of modern typography, the original fonts are far from perfect. However, today's technologies enable easier and quicker glyph construction, using of much wider shape variations as well as employing dynamic elements in the text setting. After digitization, the original fonts will be elevated to current typographic and technological standards. The result of the project will be a growing catalogue of digitized fonts, distributed in the modern OpenType Font format, suitable for use in all design applications as well as on the web.